Experience
"The business continues to be successful mainly because of the work ethic. Our employees are dedicated and conscientious hard workers"
                              Milton Spracklin Jr.
 

Milton's father started in the business at age 14 and passed on those skills to his son Milton.  The secret to the success of any business is quality products and more importantly staying power. Those qualities ensures it learns and adapts its skill sets to service all industry sectors. Contrary to its name sake United Sail Works has long ago offered many products beyond sails. Sail making and repairs were replaced with practical and current products.  Canopies have become a strong demand item.  And United Sail Works had the privledge to be asked to provide canopies for the Pope and The Royal Family. 

United Sail Works  core business is in manufacturing canopies, tarpaulins, tents, truck covers, and awnings.  From these products it has extended its reach by diversifying to provide construction site enclosures, and covers for snow mobiles.   

The company  carries a wealth of products shipped from across the continent.  It provides custom designing and can provide canvas, vinyl, mesh, dacron, nylon, and fabrene products.
United Sail Works Ltd
Bldg 954 Pleasantville
St John's,NL
A1C5W4,Canada
709-754-2131
unitedsailworks@nf.aibn.com
---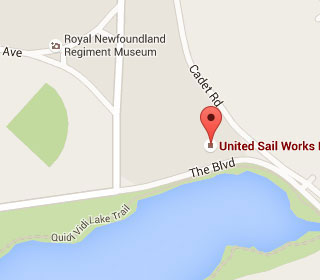 Click for GOOGLE view