History
While Ernest Spacklin was originating the founder of United Sail Works Ltd. The businessman that molded United Sail Works Ltd into what it's today and long before the word "Entrepreneur" was ever used was Milton Spracklin Sr.  

United Sail Works is a unique Newfoundland Company that started operations in 1922. The companys long and colorful past has been highlited in local and national Newspapers like the Globe and Mail. As outlined in that Newspaper in Dec 08, 2008 "The Last of Newfoundland's Great Sailmakers went from canvas to offshore oil rigs. Here is some of that story.

Milton Spracklin Sr was a successful businessman and steered United Sail works through the decline years of the sailing industry. Fatefully the sailing industry took years to decline and allowed United Sail Works the opportunity to evolve and offer new services. But with respect Mr Spracklins core skill he never waivered from canvas making nor his name sake.... United Sail Works Ltd. The operation started on George Steeet when George street was the business hub of St John's rather then what it is known for now. Milton Spracklins father Ernest Spracklin along with his partner James Oakley commenced operation in 1922. Ernest was a notabtable business person who was to be permanently written into the history books of the province. He supplied the sails for Captain Bob Bartlett a famous Newfoundland navigator and Arctic Explorer.

Milton Spracklin Sr helped his father Ernest with USW as a boy and young man until he went into business for himself after the war ended. He founded Sparackin Agencies and imported goods to North America. Today some of the most well known products names were introduced by Spracklin Agencies. Milton Spracklin Sr married his wife Mondella (Monnie) Beck and had a son Milton Jr. He returned to working at USW after his father Ernest passed away in 1972. The evolution of the economy in Newfoundland has required USW to change and adapt with the times. It's household name made it an inevitable choice and was called on by Government agencies to supply and service many milestone events.

Just a few of these were.....

:: Supplying canopies to notable visiting dignitaries such as The Pope and The Royal Family

:: Supplying services to the famed Jacques Cousteau

:: USW was asked to supply supplies for movie sets such as Orca

:: James Cameron the director of the famed movie the Titanic relied on USW for services.

:: It has fabricated sails for the famous schooner Norma and Gladys 

 
Milton Spracklin Sr worked at United Sail Works Ltd until he passed away in Nov of 2008 at 87 years of age. United Sail Works Ltd's legacy continues operations under the watchful eye of his son Milton Spracklin Jr, Milton has inherited many of his fathers passions and a mastermind work ethic. He truely beleives that it's the United Sail Works Ltd's creativity problem solving and even coming up with new industries like Ski Doo trailer enclosures that have sustained United Sail Works Ltd. It's a company of first choice when customers are in need to seek a canvas or vinyl solution. But more importantly it's the fearless work ethic and determination of the United Sail Works Ltd's long lasting staff that have helped it grow and prosper. United Sail Works Ltd is tucked away in Pleasantville next to the bottom of the historic and well known Quidi Vidi Lake where the city holds it's oldest historic sporting event, The Royal St. John's Regatta. They're quieitly creating long lasting quaility products for both the General Public and Business Customers.
United Sail Works Ltd
Bldg 954 Pleasantville
St John's,NL
A1C5W4,Canada
709-754-2131
unitedsailworks@nf.aibn.com
---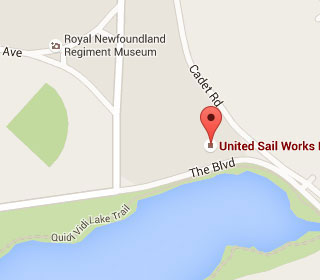 Click for GOOGLE view